100 Proven &Tested  Marketing Tools That Drive 40 to 80 +  New Patients Per Month Into Your Practice...Just Like Our Masters Around The World
| | You'll Get All Of This! |
| --- | --- |
| Over 100 Marketing Tools | |
| Simple scripting for influencing prospects to say "YES" to care | |
| Preparation checklists and cheat sheets to fast track your success | |
| Step by step procedures for ease of use | |
| How to master the art of asking for referrals | |
| 6 steps to getting ALL the family members checked | |
| The 10 secrets to every marketing piece...to increase results 10 fold | |
| How to set up and execute trade shows and health fairs | |
| How to hire and train a screening team | |
| ... and much MORE! | |
(Optional 3 monthly payments of $99/month available)
Get the 7-Figure Marketing Secrets that work like magic! Enjoy your 
3 Super Bonuses that will create your new patient machine!
2 FREE Tickets To Any "Mastery Training University" Worldwide

My Top 3 Social Media Marketing Tools That Drive In 150 to 250 New Patients Every time.

Gain Access To Masters Facebook Tribe
How To Attract A Surge of New Patients, Master Techniques to Get Referrals And Grow Your Revenues...Fast…In As Little As 30 Days!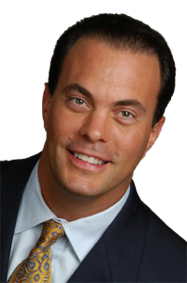 Dear Doc
Do you sometimes get frustrated from a lack of new patients?
Is this affecting your ability to pay bills and simply get ahead in life?
If you answered "YES", and if you're like most Chiropractors who want to see more new patients and earn a better income…then this is probably the most important message that you'll read today.
Pay close attention…
Let Me Show You How To Easily Double Your New Patient Flow In As Little As 30 Days!
Hi! I'm Dr. Mike Reid.
Did you know there was a recent study that has shown that, "Your income is directly proportional to the number of new patients that you attract!"
It doesn't take a rocket scientist, but it does make sense, right? Unfortunately, a lot of chiropractors haven't even clued into this simple fact!
A number of year's ago, when I first started in practice, I remember looking out my front window of my office, looking for that next new patient. I was one of those doctors.
I thought if I had a D.C. license, that patients would magically find me. Wow! Was I in for a rude awakening?
I had student loans to pay, rent, staff wages and every other expense…just like YOU!
It was from this school of hard knocks, "That I decided if it was meant to be, it was up to me." I was the captain of my own fate. I decided to learn from the masters in coaching and practice building! Over 20 years, I estimated that I spent around $250,000 to learn marketing mastery.
I built my practice by beginning with my first outside talk to a group of yogis. From there I mastered the art of screenings, then company lunch and learns. I continued by mastering the art of asking for referrals, developing direct mail, and internal promotions…just to name a few.
The list of my marketing mastery grew to where we were ATTRACTING 70-102 new patients per month. Pretty awesome right? My practice then EXPLODED to 1000 patient visits per week. The new patient machine was instrumental in creating this wild success.
Doctors flocked to my office, sometimes 3 per day to shadow and learn my safely guarded success secrets. This was the birth of "Chiropractic Masters International".
My seminars started to teach hundreds of doctors across North America how to duplicate my success. And the results confirmed what I've been teaching all along...doctors are doubling and tripling their income.
We collected and condensed all of those secrets and tools into my "Marketing Mastery Toolkit". Now, these can be YOURS in an easy to implement toolkit with over 120 ready to use systems that are simply plug and play, and current for this year.
One Doctor Gave The Marketing Toolkit To His C.A…And They Attracted A Staggering 92 New Patients...In The Month of December!
With all the business in our lives, many doctors tell me that they do not have time to market their practices. And the irony lies in the FACT...that if you are NOT marketing your practice...then you are NOT growing…
As a matter of fact, you are probably DYING! Am I right?
And doctors who are either coaching with me, or attending my Mastery Training Universities...are growing 30% - 150%. Accolades are pouring in from doctors who are dipping into my marketing savvy.
If I Could Show You How To Duplicate A Process That Creates An Avalanche Of New Patients Into Your Practice...Would That Be Of VALUE To You?
Doubling or even tripling your new patient flow.
Mastering the art of referrals that are already sold on your care.
Gain new families in your practice through my 6-step process for getting ALL family members checked…that works every time.
Hiring and training a screening team that runs your screenings for you…so you can enjoy your weekends off.
Secrets to getting every guest at your workshops in for a spinal checkup…It takes simple 4 line script.
How to flawlessly set up, execute and gain new patients from workshops.
Gaining new practice members from simple, no cost, easy to use in office flyers.
Boost your pediatric population by getting kids under care.
Shifting your marketing dollars towards effective social media that works. One social media management system hits 7 social media engines at the same time. Want to know it's secrets?
I've Done This, Hundreds Of My Doctor's Have Effortlessly Duplicated This. And I'm Telling You that YOU Have What It Takes To Create Your Own New Patient Machine Right NOW!
So, are you ready to start welcoming a surge of new patients into your practice? They're out there!
And they're waiting for YOU!
And if you are as hungry as I am to create that AVALANCHE of new patients into your practice…
Then Can I Give You The Keys To The Vault?
Introducing Chiropractic Masters International
"Marketing Mastery Toolkit"
Here's the great news. We've just put the finishing touches on our BRAND NEW, step-by-step, marketing mastery toolkit for creating your very own new patient machine avalanche.
I call it the "Marketing Mastery Toolkit"...because it's used by hundreds of doctors in the "Masters Millionaire Protege Club". You HEARD that right!
Doctors who are cracking the million-dollar mark all over the world!
WHY? Because they understand the relationship between an increase in new patient flow and increased income.
Finally, a clear and concise system that details everything you NEED and MUST know about ATTRACTING more new patients and BOOSTING your income!
Here's What You'll Discover On The Inside.
A Where To Begin In Your Practice Outline:

Everything from how to create a mission statement, to setting up your marketing calendar. How to best hire a public relations team member to understanding direct response and branding.
Marketing In Action

Everything you need to know to hiring and setting up a screening team to getting a booth and selecting your banners. The essentials to performing outside lectures, "Dine With The Docs", to learning how to create effective Direct Mail.
Mastering Internal Marketing

Quickly master how to make your procedures your promotions and your promotions your procedures. Capture how to execute complimentary in office promotions to fun patient events like Patient Appreciation Days.
Everything Else

Use my time-tested checklist that we used over the last few decades to ensure your events are run flawlessly. Discover how to network with other professionals.
Social Media Mania

Up to 40% of your practice can be derived from social media, the internet and effective websites that work. Get the fast track to social media in your practice to start attracting your share of that new patient mother-lode.
Listen To A Few Of Our Raving Clients
"Dr. Mike truly wants every Chiropractor to succeed for their own benefit and for the benefit of those whom we serve. His methods are tried and true and reproducable by anyone..."

Dr Darrin G. Midland, ON
"The material is complete, easy to use and specifically geared to today's chiropractic reality."

Marc-Andre Boivin, Laval QC
"The biggest change in our practice has been our marketing. The strategies Dr. Mike has taught us have translated into having a 3 week waiting list for new patient exams in our office! Simply awesome. Thanks Dr. Mike!"

Adam B. Kitchener, ON
My Marketing Mastery Toolkit Is A Complete A-Z Success System. Here's How You'll Benefit!
A quick reference guide on direct response marketing and the "How" and "Why" it works.
5 Sample direct mailers that generate 10-15 new patients with every drop…and how to monitor it for a high ROI.
How to set up multiple pillars of marketing through the Parthenon Effect. This is the secret to building it BIG.
10 key elements you need in every marketing piece…to DOUBLE the your new patient results.
4 key STRATEGIES you need to make your December a new patient bonanza…and have a blast.
How to ask for and get TONS of referrals…without spending a cent.
Secrets to getting new patients with a "Master Lead Generation Sheet". And why the follow up is so critical.
The 12 MUST HAVES every website needs to start attracting 2-5 new patients per week.
The "15% Rule" on nutritional sales and how it triples your point of sales and income.
How to CONVERT every guest at your "Doctor's Report" into a new patient…with a simple raise of the hands.
Master the art of getting 10 new patients per month from the "Referral Basket".
How to effectively use Holiday Mailers 4 times per year. Do you know the "HOT" times?
The 3 Secrets to setting up screenings that draw patients into your booth like moths to a flame.
Top 5 elements that MUST go into your Day 3 "Welcome Package".
And MUCH, MUCH MORE!!
"I saw a record again today and I continue to do so. I break records every month…and it's just the beginning!"

Dr. Benny Mathew, Cardiff, Wales, United Kingdom
"Dr. Mike Reid has changed the course of my life…" "Dr. Mike Reid and Chiropractic Masters International changed the course of my life! With his help I have been able to dream bigger and serve more patients than I've ever dreamed of doing. I highly recommend his coaching to get you on the road to real success."

Dr. Justine Blainey-Broker, Brampton, Ontario, Canada
"I work less, I make more money and we're helping more people"

Dr. Cherine VanWagner, Richmond, Virginia, 2011 CLA Chiropractor of the Year
My Marketing Mastery Toolkit Has Over 120 Marketing Tools That Are The Backbone Of Some Of The Most Successful Practices In The World Today!
When You Purchase The Marketing Mastery Toolkit TODAY, You'll Get The Following Bonuses 100% FREE!
1. Two FREE Mastery Training University Tickets (Value of $794).
Gain access to our legendary 2-day Mastery Training University seminars in select cities. (See our home page for our next event).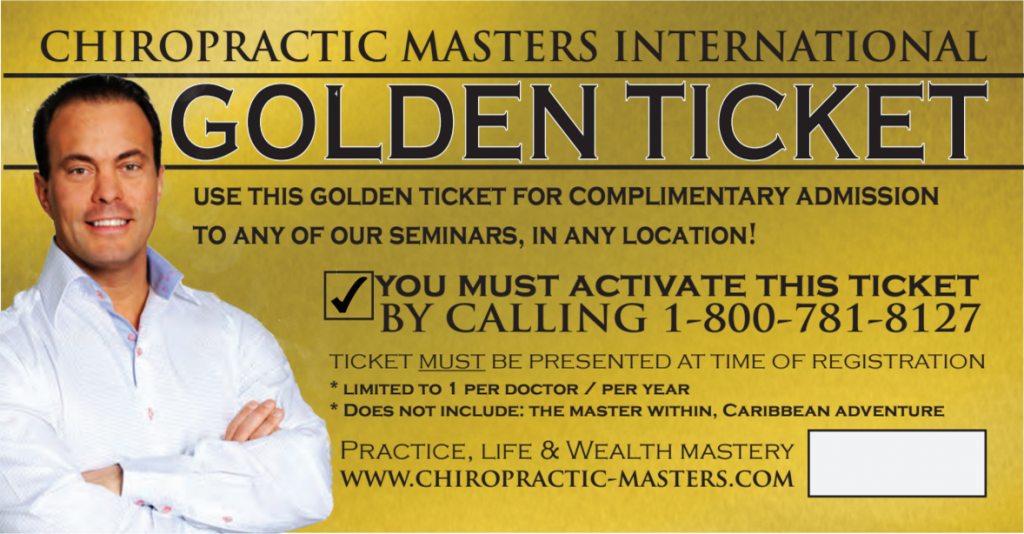 2. Top 3 Social Media Marketing Ads – as seen in Groupon (Value $10,000+)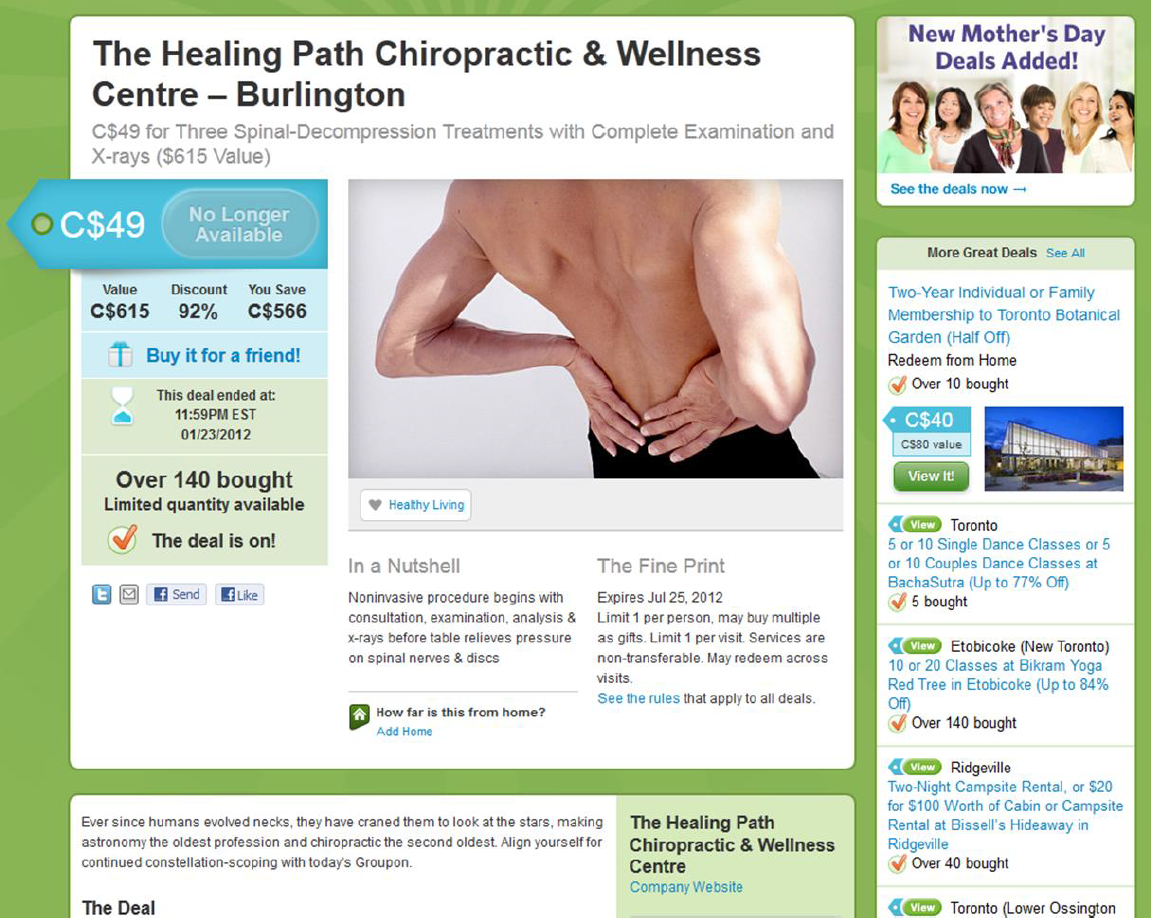 3. Access To Masters FB Tribe
You'll be able to chat with other Facebook members from around the world and review marketing tools that work in all practices. Value (PRICELESS).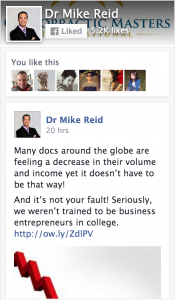 So How Much Would You Have To Invest To
Get Your Very Own Copy Of Masters Legendary "Marketing Mastery Toolkit?"
The true value of the complete package that you are getting today (Marketing Mastery Toolkit & Bonuses) is worth over $10,000.
And let's be honest: at this price this is an absolute steal.
I can boldly make that statement because of the hundreds of thousands of dollars that I have invested over the last 25 years, into my marketing and business education.
Furthermore the results these marketing tools have brought to my million-dollar practice and hundreds of others' worldwide.
However, you won't have to pay that amount of money to enjoy the endless benefits of my Marketing Mastery Toolkit.

Why You Risk Absolutely Nothing My 'Make You New Patient Happy' Guarantee!
I'm so positive that this will work for you that I'm willing to offer you a 100% "Make You New Patient Happy" Guarantee. If you can prove that my marketing toolkit did not produce at least 10 new patients from your marketing efforts, then I'll refund your money invested.
HINT: Use my "Bring A Friend or Family Member" Tool #57 and get a guaranteed 10 new patients.
Sign Up Now To Lock In The Lowest Price…
(Optional 3 monthly payments of $99/month available)
(VALUE Of $497) That's A 40% Savings. Shipping Is FREE!
I realized that I'm protected by a 100% money-back guarantee if I'm unsatisfied in anyway.
You don't have to wait to create your own tsunami of new patients. Order today and let's start getting those new patients into YOUR office before they visit another chiropractor's office.
Here's what I want you to do next...
1. Order you very own "Marketing Mastery Toolkit"
2. Huddle with your team and start filling up each month with tools that
bring in new patients by the droves.
3. Examine them! Educate them! Get them on care!
4. Watch your practice and income grow!
So, Are You Ready To Get Started?
My last toolkit was my best seller, but I took it off the market, because it needed an overhaul with fresh marketing tools and current products that work in 2016. This is version 3.0
I'm really proud of this product that we have put together for YOU. Not only will you see your practice and income grow, but think of the hundreds of people you can get under chiropractic care.
P.S.  I Still Can't Believe I'm Giving It Away For This Price!
I've made this so EASY and TURN-KEY that HUNDREDS of doctors around the world are doubling and tripling their new patient flow and literally turning around their new patient machine in as little as 24 hours!
Your investment cost as little as 10 adjustments.
My "Friends & Family" flyer is guaranteed to produce 10-20 new patients (and that's only1 marketing tool).
The bonus social media Groupon ad pulls in as many as 150 new patients.
There are over 120 marketing tools from you to choose from!
It's simple and easy to use...Even your C.A.'s can set this up for YOU!
Order Your Marketing Mastery Toolkit Now